This weekend I caught the end of a debate on who would be the next former Twin to be inducted into the Twins Hall of Fame.  Currently there are 24 members, which include players like Killebrew, Carew, Puckett,  and Versalles.  It also includes 7 non-players – guys like Calvin Griffith and Bob Casey.  This week is the last week of voting on the Twins website for the 2013 Class, which you can vote for via Twitter.  Currently Dan Gladden is in the lead, followed by the kid you see in the picture below.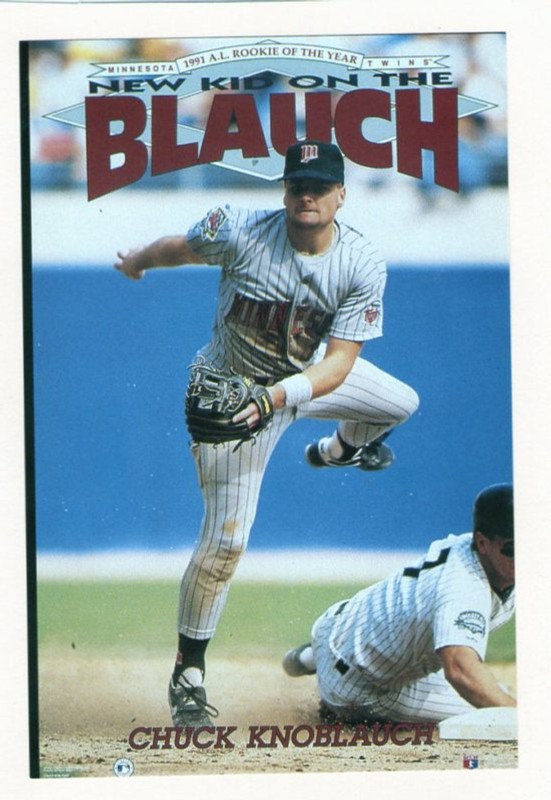 Chuck Knoblauch broke into the big leagues in 1991 after just 2 years in the minor leagues.  He was drafted as the 25th pick in the 1st Round of the 1989 draft out of Texas A&M University.  Knoblauch never even made it to AAA before becoming the starting second baseman at the beginning of the 1991 season.  He would go on to hit .281 with 25/30 steals, 24 doubles, and a 51/40 BB/SO ratio in 636 plate appearances.  Knoblauch would receive 26 out of 28 votes for Rookie of the Year (beating out Juan Guzman and Ivan Rodriguez), and help lead the Twins to their second World Series Title in 5 years.
I turned 8 years old the summer of Knoblauch's rookie season, and the scrappy second baseman quickly became my childhood hero.  In fact the poster you see above hung on my bedroom door for many years as a kid.  Chuck got on base, stole bases, hit for average, and – before being traded to the Yankees in 1998 –  was a much better than average defender (56 Fielding Runs Above Average in 7 seasons with the Twins).
From 1991-1997 in a Twins uniform, Chuck Knoblauch hit .304 with 210 doubles, 51 triples, 276 stolen bases, 1197 hits, and scored 713 runs.  Knoblauch was a 4-time All-Star, 2-time Silver Slugger award winner, and won a Gold Glove in 1997.  Oh, and he got hit by pitches 74 times as a Twin also.  His Twins career offensive WAR was an astonishing 31.1 (7.3 in 1996), and his defensive WAR was 8.2 in those 7 seasons.  From 1993-1997 he lead the Twins in WAR, and his 1996 WAR of 8.2 is 4th in Twins history (Carew – 9.5 – 1977, Blyleven – 9.4 – 1973, and Santana – 8.5 – 2004).
In the 1991 playoff run as a rookie, Knoblauch hit .326, stole 6 bases, and scored 8 runs in 12 games.
Obviously, not all is positive when we look at Knoblauch's career.  His time in New York and Kansas City was no better than awful.  His return to the Metrodome brought Tom Kelly out of the dugout one night to get the fans to stop throwing change and nachos at him.  More recently his name has come up in the steroid debate, and he has battled legal troubles involving assault on his wife.  Knoblauch even admitted to using HGH during his time with the Yankees, which, looking back definitely did not enhance his performance.
All of that said, if you are still upset that Knoblauch demanded a trade to a contender back in 1998, I think it's time to get over it.  Chuck did an awful lot for this organization in his 7 seasons as a Twin, and by the statistics is literally one of the best players to put on a Twins uniform – ever.  No matter what has happened in his life, how he disappeared from baseball so quickly, or how his baseball career came to a crashing halt; Knoblauch deserves to be included with the likes of Gagne, Puckett, Hrbek, Blyleven, and Battey in the Minnesota Twins Hall of Fame.
Follow Twins Rubes on Twitter @twinsrubes. Check out our main site at www.twinsrubes.blogspot.com.