Yesterday, Phil Mackey of 1500 ESPN wrote an interesting piece on young utility infielder Eduardo Escobar, who was acquired last summer in the Francisco Liriano trade.  On the surface, Escobar's career .217 average and .539 OPS don't exactly make me salivate.  In fact he's only a .267 hitter (.660 OPS) in his career in the minors.  What we do know is this: the 24 year old is a defensive force.  He's slick with the glove, can play multiple positions, and – surprise! – was the third catcher for the White Sox last year before being traded to the Twins.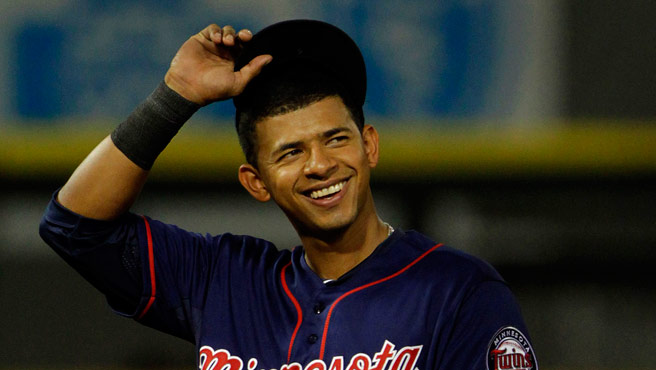 Minnesota has a unique catching situation again this year, with veterans Joe Mauer and Ryan Doumit on the roster.  Both play catcher, and both play other positions in order to keep their bats in the lineup.  Where things get dicey is when one of them DH's, and the one playing catcher would get hurt.  In that emergency the Twins would need a third catcher on the roster in order to avoid a complete disaster.  The last couple of years, that roster spot has been filled with a guy that hasn't hit over .200 in three years with the Twins: Drew Butera.
I like Butera as a catcher and he has definitely shown that he can handle a pitching staff, but his ineffectiveness offensively makes Twins fans yearn for another option – any option. This is where Escobar may become a factor.  Although he has never played a MLB or MiLB inning at the catcher position, it sure is intriguing that a guy with great defensive skills would start catching bullpen sessions this week.
The 25 roster spots each MLB team uses are crucial.  Using one of those spots for a terrible hitter that might only be needed for 40 games throughout the season is questionable.  Mauer has said he would like to catch 120+ games this season, which leaves just 42 games to fill at the position – most of which can be eaten up by Doumit.
Let's say hypothetically that the 25 man roster includes 12 pitchers.  This leaves 13 spots open for position players.  If 9 of those are filled with regulars (including both Mauer and Doumit), that allows 4 more bench players.  One of those will be utility man Jamey Carroll, and another the 4th outfielder – which is a whole other issue.  If Escobar can cover the duties of an all-purpose man that can also serve as the emergency catcher, that leaves one roster spot open for a big-bopper that can pinch hit in the late innings.  This spot could be filled with a guy that can steal a couple of wins throughout a season with big blasts off opposing closers.  The 25th spot could be saved for – you guessed it – Jim Thome!  Who would you rather have filling the last spot on the roster: Butera or Thome?
Follow Twins Rubes on Twitter @twinsrubes.