Last night in Kansas City, Twins fans came 2 outs away from seeing something we haven't seen once this year from the starting rotation: a complete game shutout. In fact we haven't even witnessed a complete game yet, much less a shutout from a starter. Canadian Andrew Albers made his major league debut firing fastballs in at a high of 88.6 MPH, and dropping in curve balls as slow as 67.7 MPH. Jamie Moyer I'm sure was proud as Albers diced up a hot Royals lineup to the tune of 8.1 IP, 4 hits, 1 walk, and just 2 strike outs. After a season-high 109 pitches and a 4-pitch walk to put men on 1st and 2nd in the 9th, Ron Gardenhire decided to pull the plug in favor of Casey Fien, thus ending the complete game shutout bid. The question now is: Are 8.1 innings of shutout baseball against a .500 team anything to get excited about for the future of this pitching staff?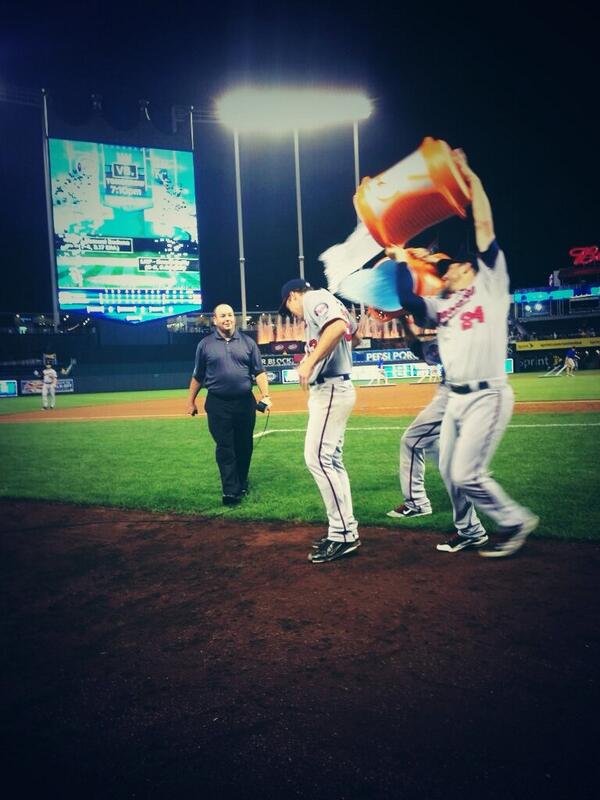 In his 5th year of professional baseball, Albers finally made it to the AAA level to start this season in Rochester. He pitched a grand total of 395.2 innings in the minors before making his major league debut last night, and only became a full-time starter last season at AA New Britain. This season he is 11-5 at Rochester, with a stellar 2.86 ERA in 132.1 innings. He's pitched 3 complete games in 22 starts, and finished at least the 6th inning in 15 of those starts. He's given up more than 3 ER in only 5 of those starts as well, and even struck out a season-high 10 batters in just 6 innings back on July 13th with that Moyer-like heat.He holds a career minor league ERA of 2.64, only once given up more hits than innings pitched in a season, and until this year never walked more than 16 batters in one season.
Is it possible that Albers and his high-80's fastball could stick in the majors? Moyer pitched the last 5 years of his career topping out in the low-80's and even high-70's, but he's a one in a million example. He obviously can't possibly continue shutting teams down like he did last night. However, consistency has been the name of his game throughout his career, and especially as of late. Albers gives himself a chance.
Judging by the heat maps on Fangraphs from last night, Albers did a fairly good job of pitching to the corners, keeping his off-speed pitches down in the zone, and keeping hitters off balance with a wide range of velocity. If he can maintain his control, continue to change speeds, and get ahead of hitters (18 out of 29 1st pitch strikes last night); as a lefty he could find himself in a rotation that desperately needs some consistency for a while here.
I just wonder how long it will take for major league lineups to adjust and take advantage of his lack of velocity. Hopefully that 15-20 MPH difference in speeds coupled with great control will be enough for Albers to be effective more often than not.
Follow Twins Rubes on Twitter @twinsrubes.